Isolation and Loss
19/05/2020 – 10/06/2020
Watercolor on paper
30 x 23 cm (closed); 137 x 23 cm (open); leporello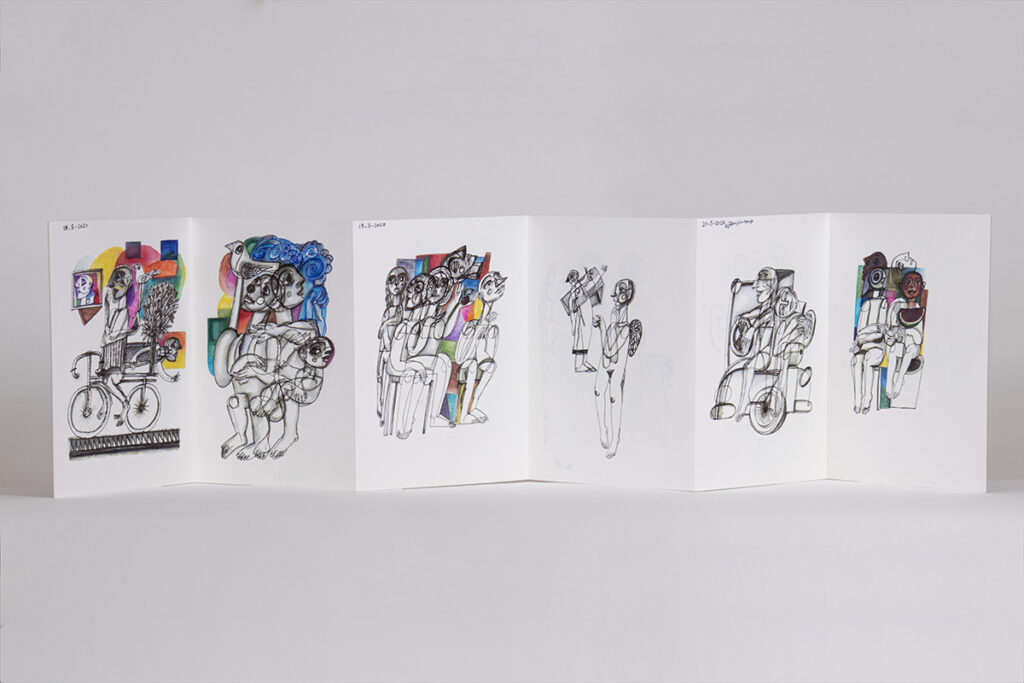 Artist's Statement
[Translated from Arabic]
It is as if I am browsing today's newspaper, but I edit it myself.
I write my fear for my family and my pain for the loss of those who left.
This accordion book,
a document
I write down my vocabulary itself, and draw my characters more elegantly and cohesively
Color them in daylight and more.
I decorate around them in stark colors to mitigate the silence of time.
I wrote and colored the slow time passing by on the asphalt waiting for me.
Early morning dream, daily partner.
A table and fruits out of season, an angel talking about hope and illusion.
One last supper is like the sentences left over from the last whisper.
This is my story that carries between its pages / me, my characters.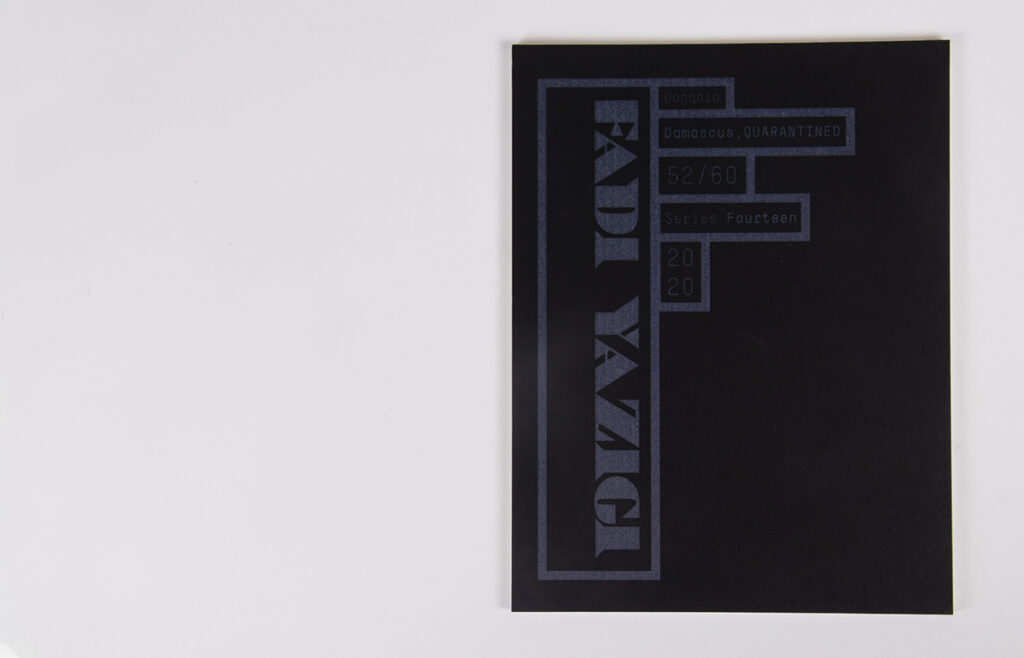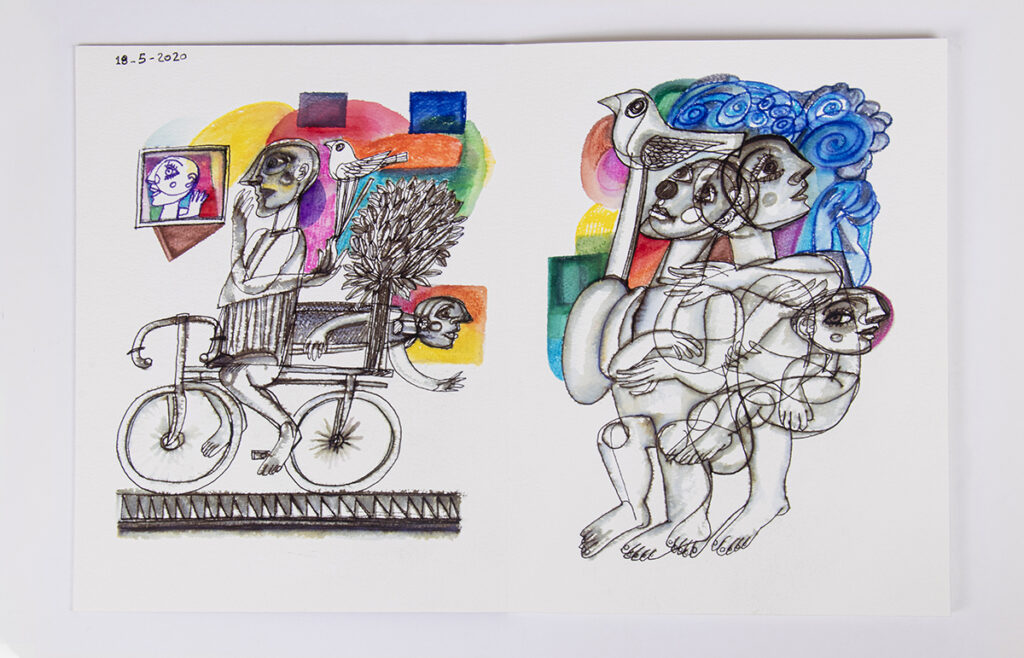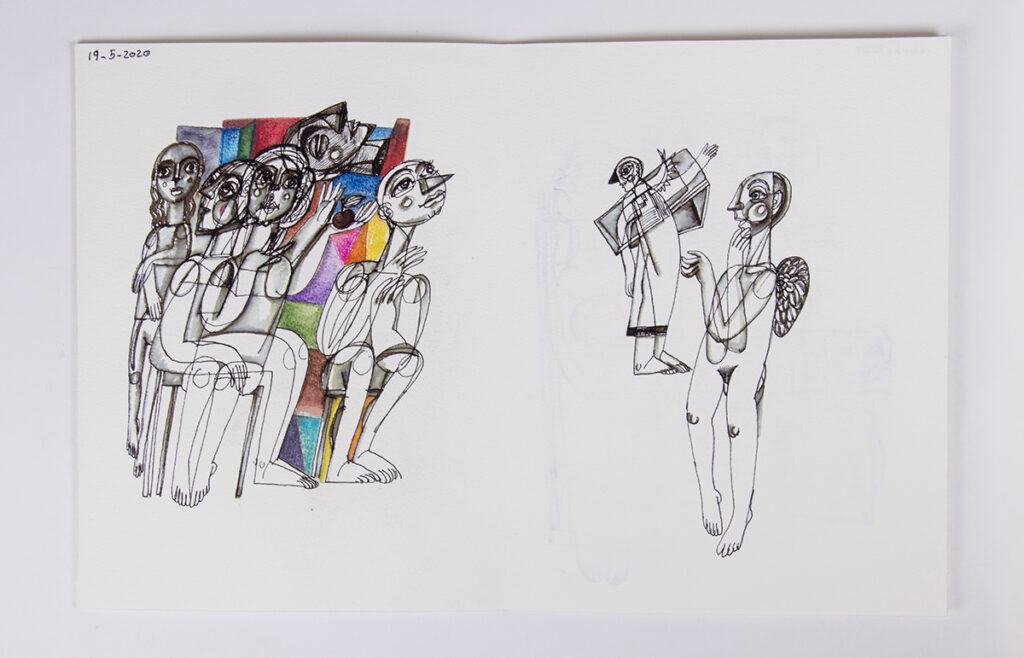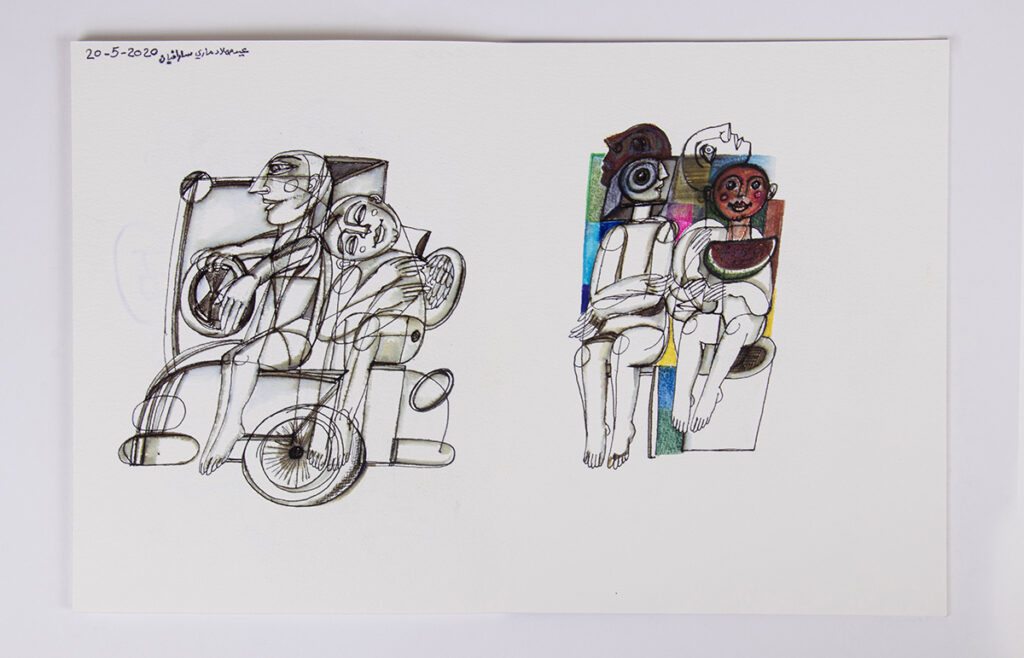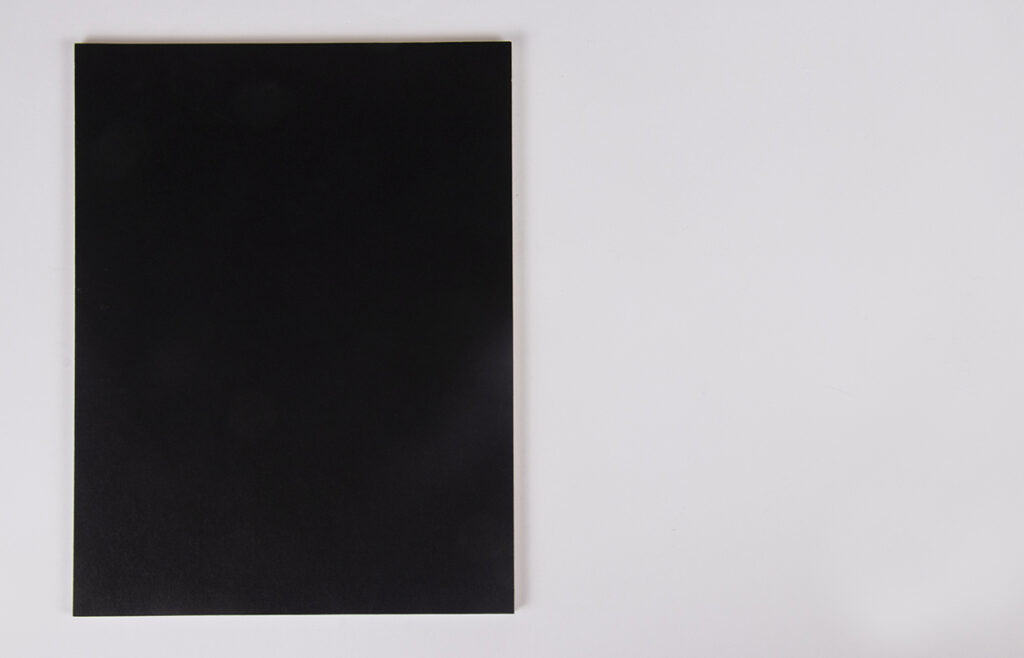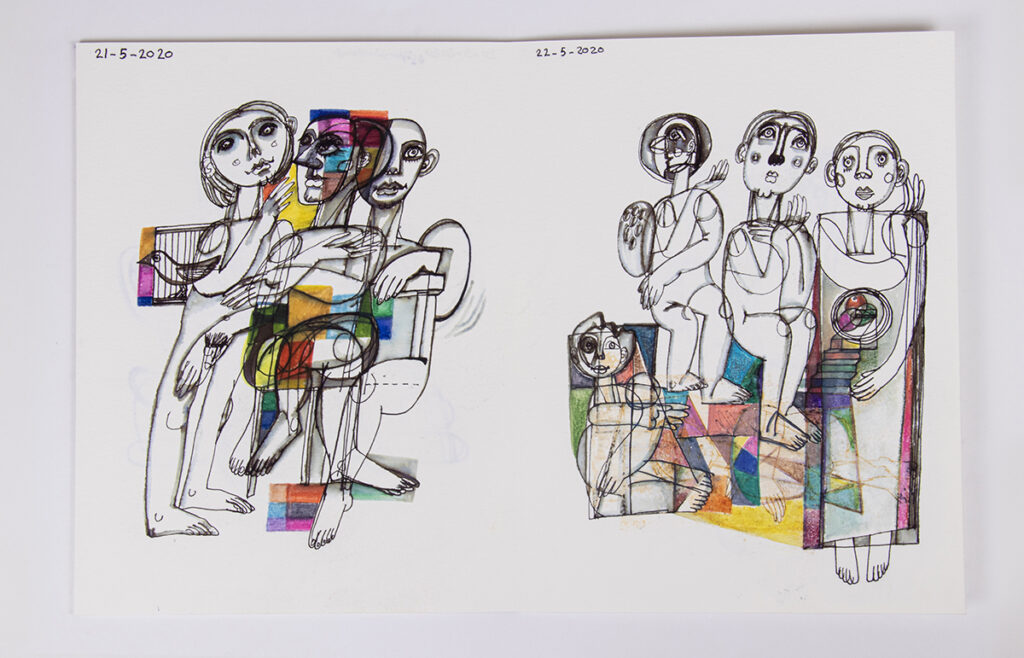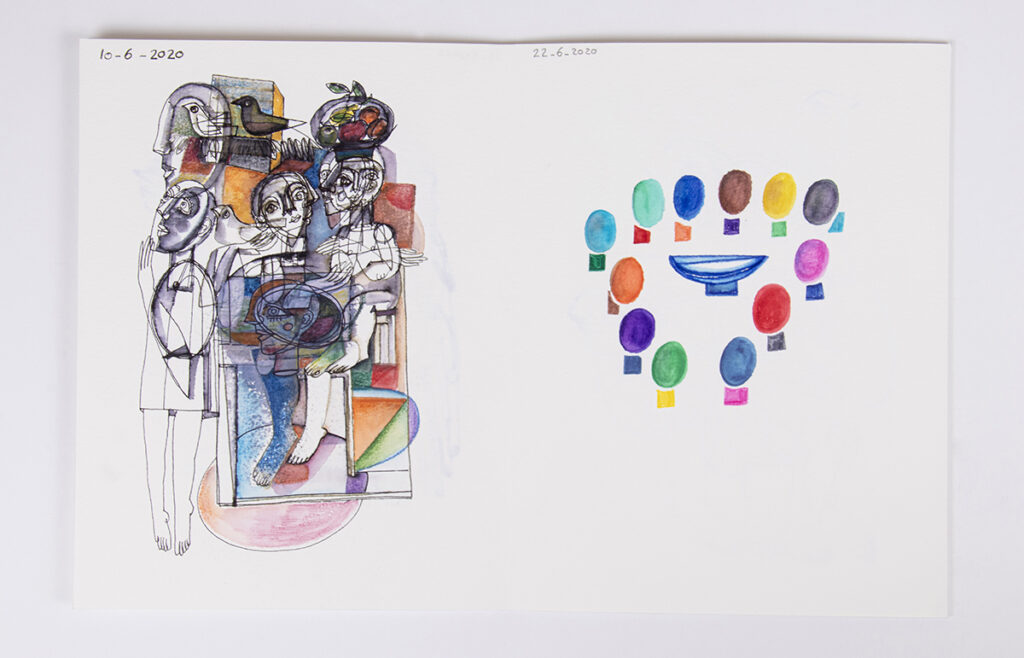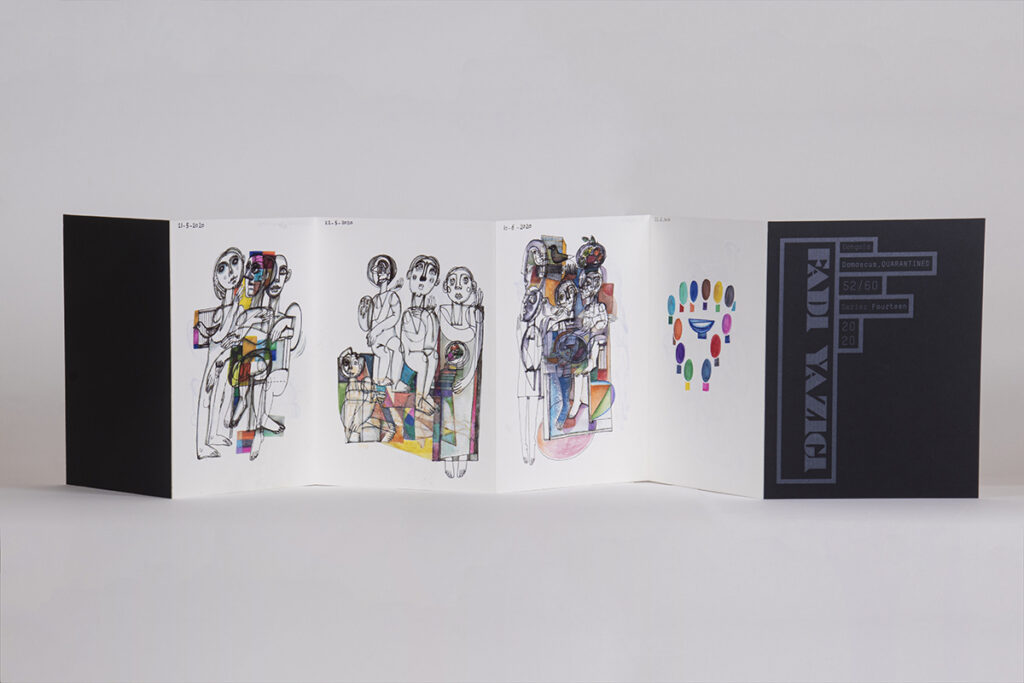 Biography
Fadi Yazigi (b. 1966, Syria) lives and works in Damascus, Syria. He received a BFA from the Faculty of Fine Arts, Damascus where he specialized in sculpture. Yazigi has had several solo exhibitions, incuding at CAP Kuwait; Deborah Colton Gallery, Houston, Texas; Dar Al Funoon, Kuwait City; Galerie Tanit, Beirut; and the French Cultural Centre, Damascus. He has participated in group exhibitions at Galeries de Verre, Bordeaux; Institut des Cultures d'Islam, Paris; Meem Gallery, Dubai as well as, a number of international events and art fairs including, Art Paris, Abu-Dhabi Art, Art Dubai, Art Palm Beach, Beirut Art Fair, and the Sharjah Biennale. Yazigi's art is in the collections the British Museum; Institute du monde arabe, Paris; Delfina Foundation, London; Kaleemat Foundation (Istanbul); A. M. Qattan Foundation, London; Atassi Foundation, Dubai; and Abu Dhabi Tourism & Culture Authority (UAE), as well as private collections throughout the Middle East, Europe, Asia and, the US.
Fadi Yazigi – Untitled
Quarantined in Damascus; For Cities Under Quarantine – The Mailbox Project