Aleppo Soap: Don't Wash Your Hands
2020
Mixed Media on paper
30 x 23 cm (closed); 137 x 23 cm (open); leporello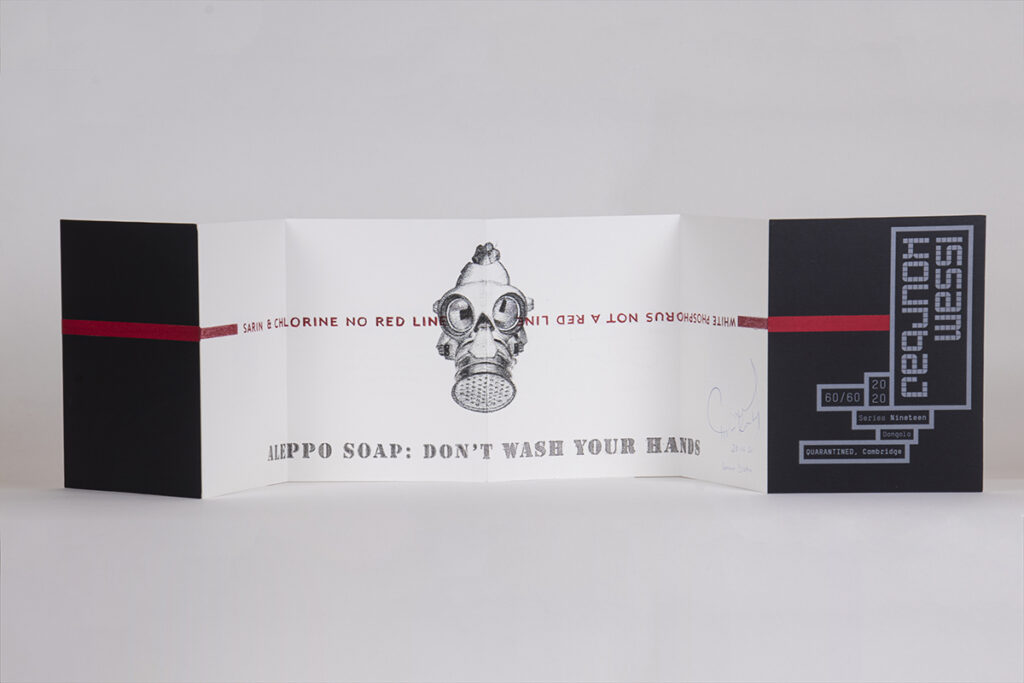 Artist's Statement
The summer solstice is a powerful planetary moment when the tilt of the Earth brings us closest to the sun and marks the longest day (and shortest night) of the year in the Northern Hemisphere. On this day, people celebrate renewal, life, fertility, the potential for a good harvest, inner and outer abundance.
How much of this celebration was possible on 2020's longest day? Around winter solstice in 2019 (the longest night) our planet was hit by the Covid-19 pandemic. Since the wake of the pandemic, governments around the world have drilled the words WASH YOUR HANDS into our heads and we were prevented from mixing with each other.
A few weeks prior to the solstice (or the day when the sun stood still) in 2020, the Black Lives Matter protests peaked, and words of the murdered George Floyd—"I Can't Breathe"—reverberated around the world.
While I was working on this piece, I was also carving, while blindfolded, 366 eye idols from Aleppo soap (a material invented thousands of years ago by the Mesopotamians). These idols were for an installation at the Fitzwilliam Museum, Cambridge, called Don't Wash Your Hands. For this notebook I used two images of different soap designs, one stamped with the word ديار (diyār, homes) and the other with the wordsبالميرا (bālmīrā, Palmyra) both were brutally destroyed.
Finally, I used lines from stanza 14 of my poem "Leave to Remain a Single Syrian Grain, Airborne," as a red strip starts at the front cover and ends at the back with an embossed braille sign saying:
Don't wash our hands.
~excerpt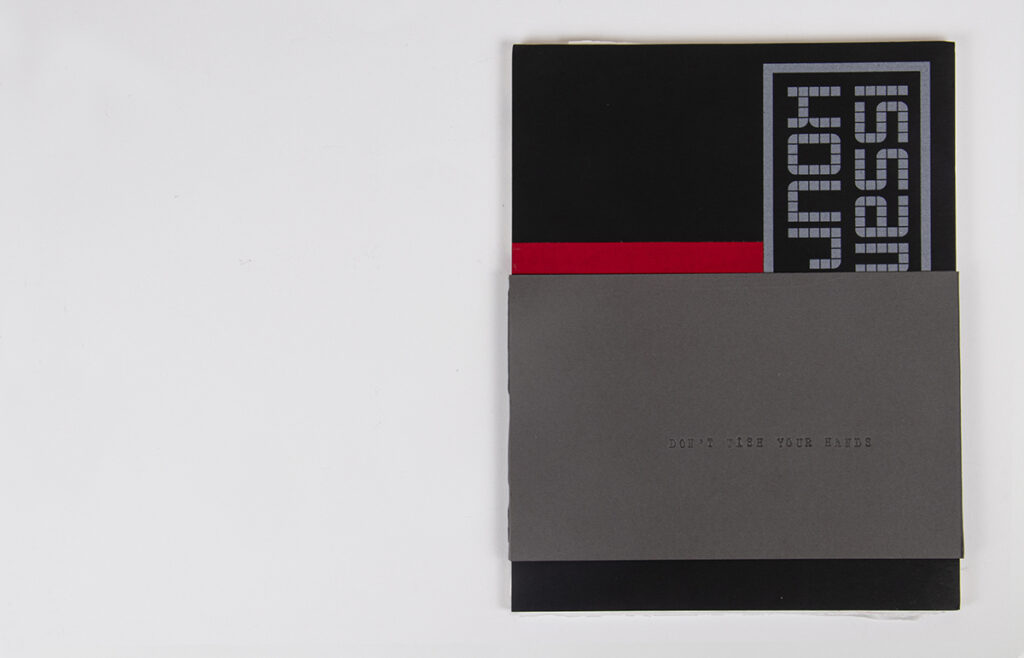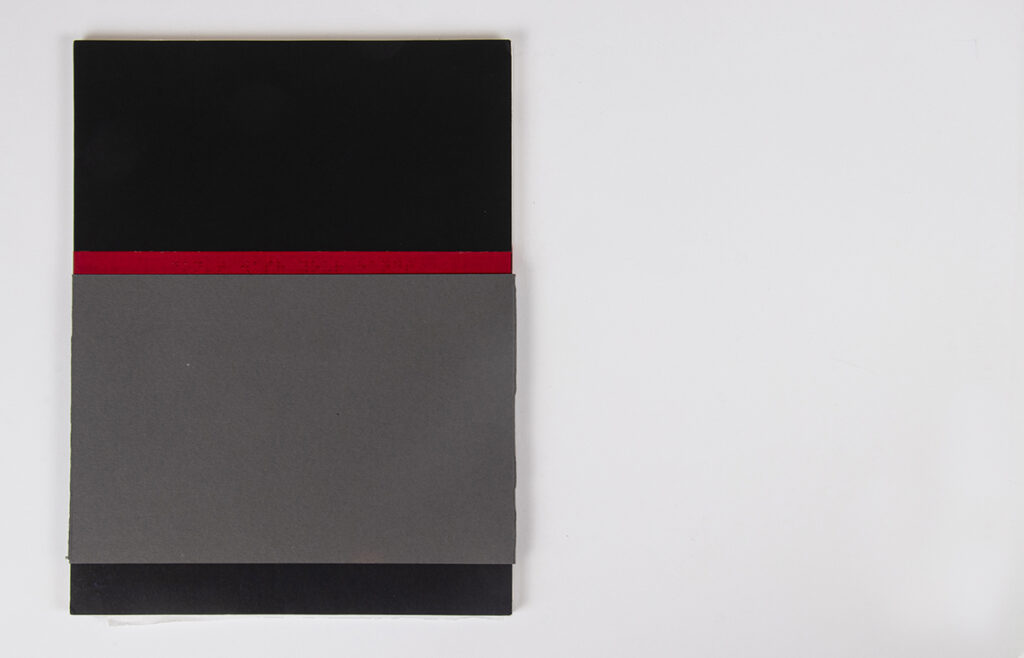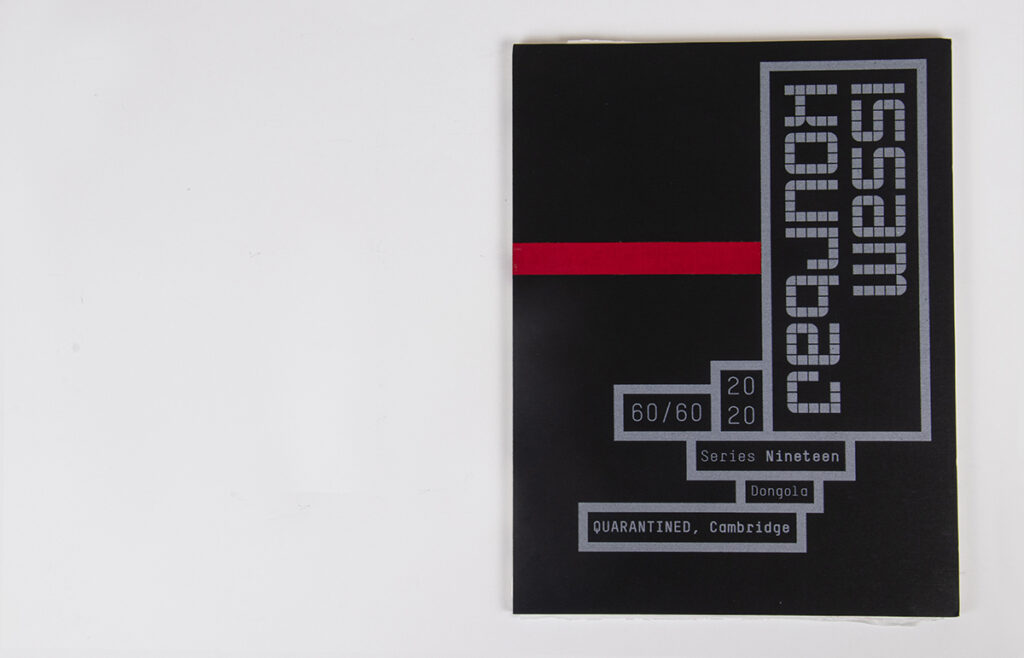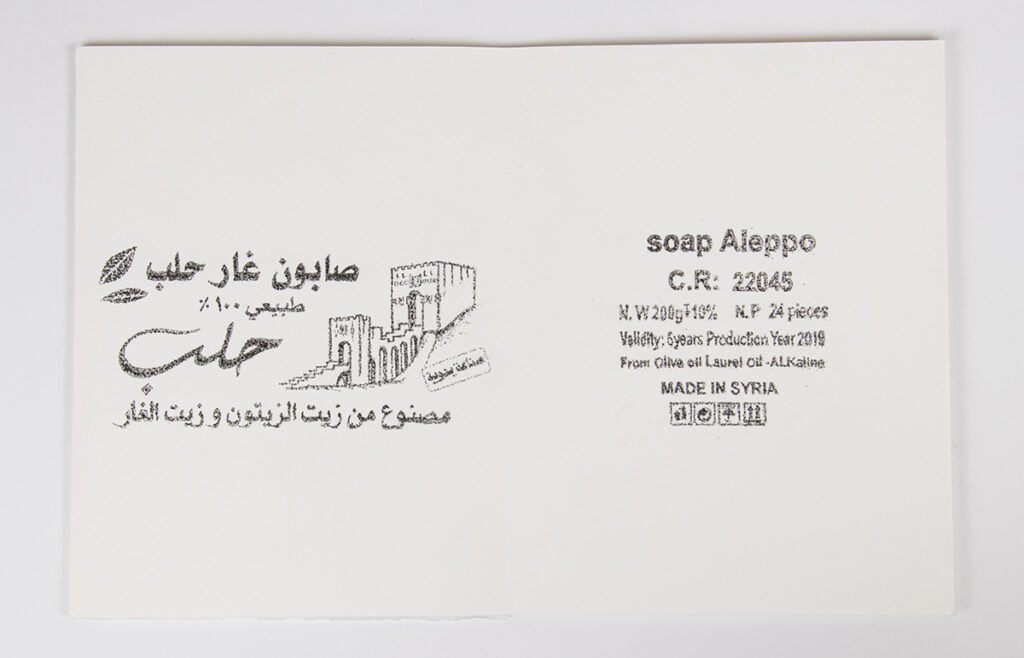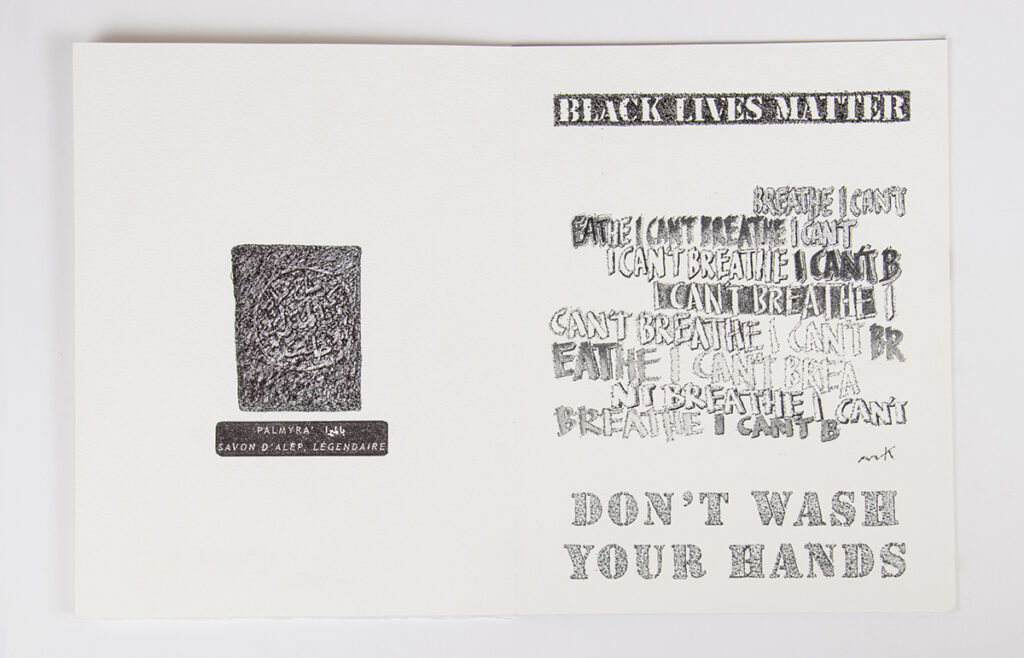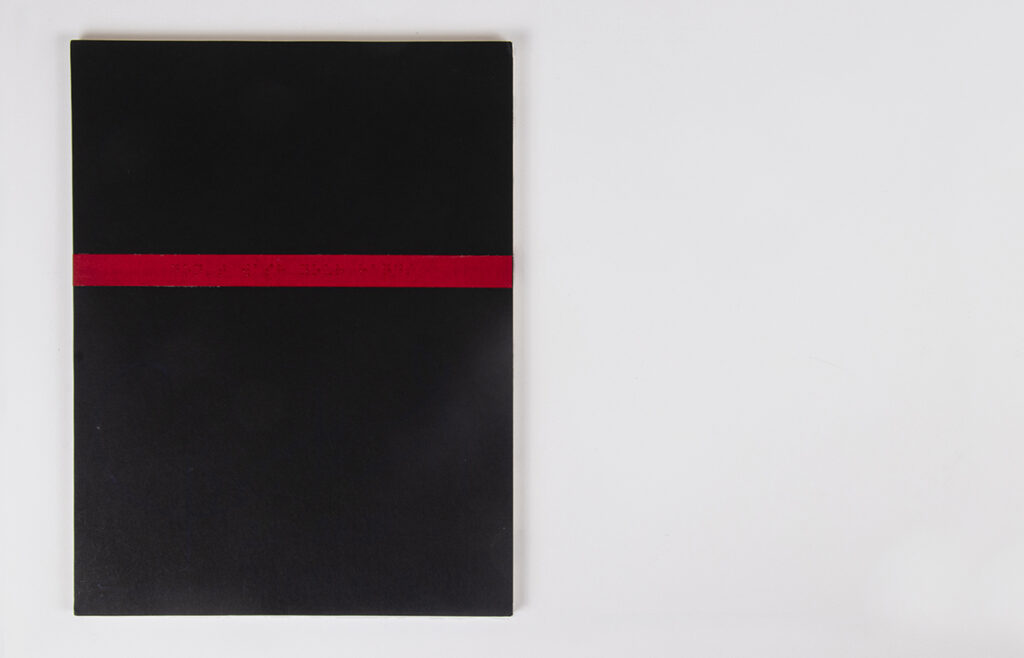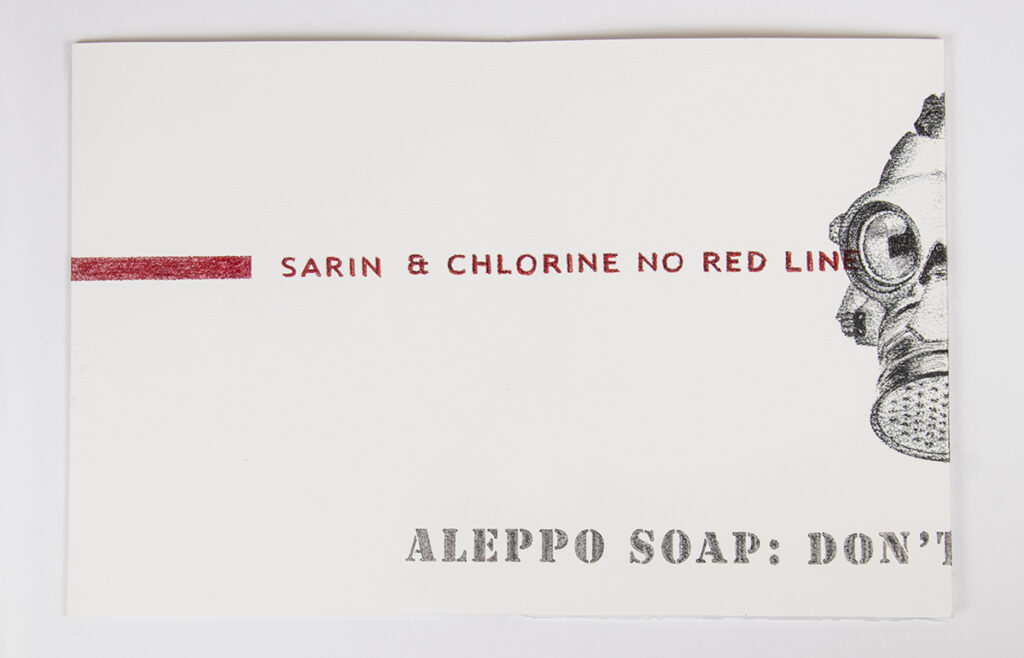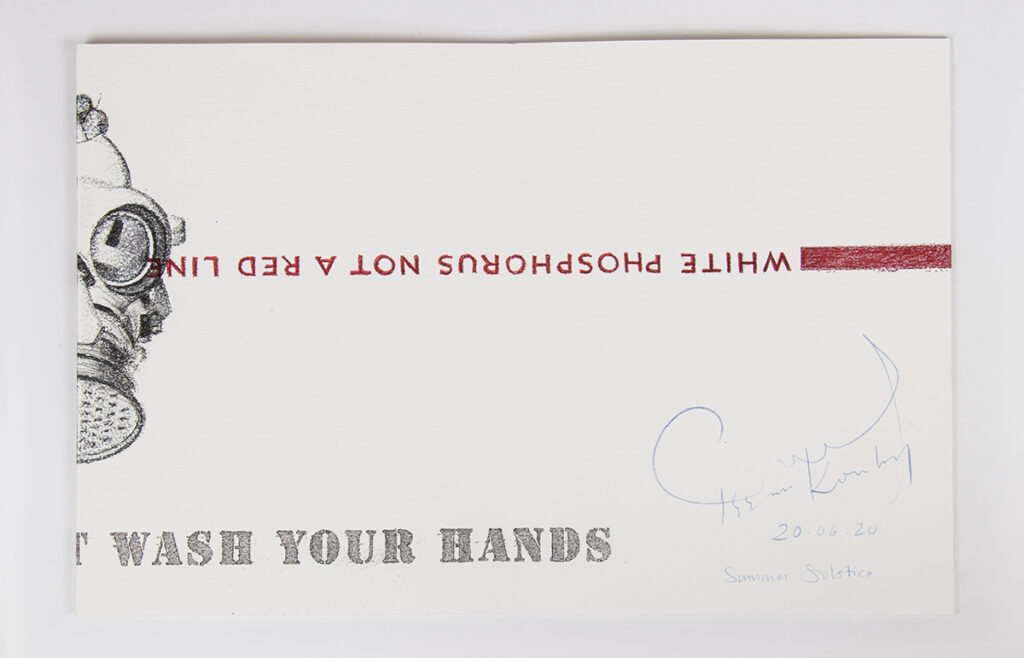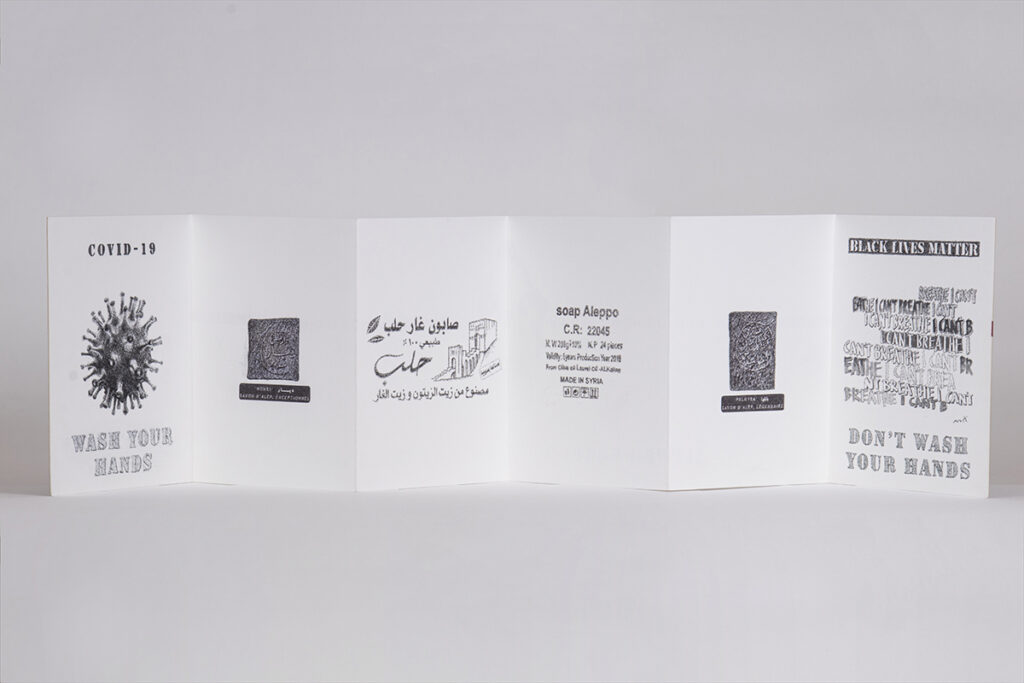 Biography
Issam Kourbaj (b. 1963, Suweida, Syria) has lived in Cambridge, UK, since 1990, where he has been artist-in-residence and bye-fellow, and lector in art, at Christ's College. Since 2011 his artwork has related to the Syrian Crisis and reflects on the suffering of his fellow Syrians and the destruction of his cultural heritage. He was trained at the Institute of Fine Arts in Damascus, the Repin Institute of Fine Arts & Architecture in St. Petersburg, and at Wimbledon School of Art. His work has been widely exhibited and collected, including at, Fitzwilliam Museum, Cambridge, UK; British Museum and V&A, London; Tropenmuseum, Amsterdam; Penn Museum, Philadelphia, Brooklyn Museum, New York, and the Venice Biennale, among others. His Dark Water, Burning World is in the permanent collection of the Pergamon Museum and the British Museum.
Issam Kourbaj – Aleppo Soap: Don't Wash Your Hands
Quarantined in Cambridge; For Cities under Quarantine – The Mailbox Project